Magic Discipline for Kids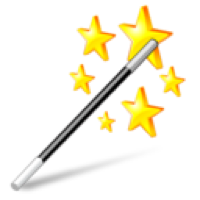 One morning I welcomed the children to the classroom with a hug. I immediately observed how inattentive they were on following directions. They did not have any interest for morning routines or circle time. They were jumping, running, screaming, poking each other and hiding under the table. I thought about what I could do to get their full attention before the drama would begin. In a few seconds with a big voice I said to my class "Boys and girls, it is time for magic!" The children were looking at me with curiosity, expecting something supernatural to happen. At that moment I knew exactly what I needed to do to redirect their energy. Many years of experience working with children in different capacities gives me the confidence to really understand their needs and value their feelings and emotions.
The Magic Discipline program will help you to release stress and to find more joy working with young children as a teacher and for parents wanting to improve your parenting skills.
You need Magic Discipline when you ask yourself:
How can I engage children's attention in the classroom?
How can I have successful class meetings, circle times, and lesson plans?
How can my child be more cooperative with the chores at home and get along with their siblings?
Contact me for a presentation at school or home.